Congratulations to Hebei Ruichun Textile Co., Ltd. website officially launched!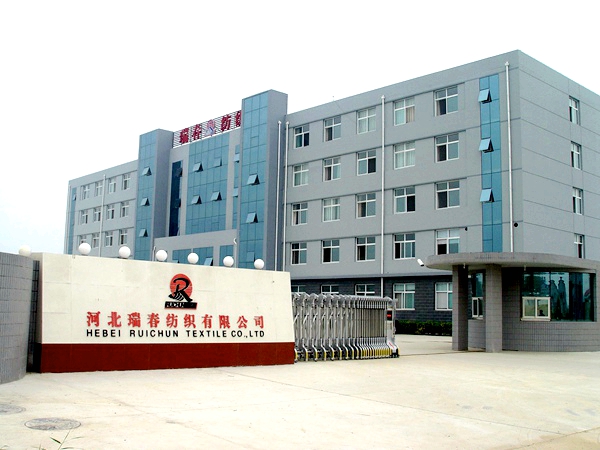 Congratulations to Hebei Ruichun Textile Co.,Ltd.website officially launched!

 Hebei Ruichun Textile Co.,Ltd.was established in 2002 and is located in Gaoyang County,Hebei,the hometown of textiles in China with a textile history of more than 400 years.The company covers an area of80 acres,has a registered capital of 10 million yuan,and has 330 employees,including more than 70 professional and technical personnel.It is a highly innovative high-tech enterprise integrating home textile R&D,design,production and processing,and sales and export.

 The company adheres to the development concept of integrity,dedication,innovation and high efficiency,takes quality as the guarantee,management as the foundation,and the brand as the backing,and takes the path of innovative information development.After years of development,through the introduction of high-speed rapier loom production lines and other advanced equipment to consolidate the hardware,the establishment of education and training bases and product development institutions to expand software,the company has quickly grown into a backbone textile enterprise with independent brands such as"Ruichun"and"Jieke".

 The series of household textiles such as towels,bath towels,towels and quilts developed and produced by the company quickly seized the commanding heights of the market in the same industry with innovative designs and excellent quality.It successfully entered more than 20 countries and regions at home and abroad,and sold domestically in Beijing,Shanghai,and Guangzhou,and exported to the United States and Japan.,Russia,has been unanimously favored and praised by consumers.Ruichun Textile was awarded the title of China Well-known Trademark,Hebei Famous Trademark,Hebei Famous Brand Product,etc.It also passed ISO9001 Quality Management System Certification,OHSAS18001 Occupational Health and Safety Management System Certification,ISO14001 Environmental Management System Certification,and its home textile products passed EU OEKO-TEX100 environmental protection textile product certification,the company has passed the EU STEP sustainable textile production certification,and the"Ruichun"trademark has been successfully registered in 8 foreign countries including the United States,Japan,South Korea,and the United Kingdom.

 In terms of product innovation,it has obtained 22 textile-related patents and 76 design copyrights.The"Hebei Enterprise Technology Center"and"Hebei Industrial Design Center"of Ruichun Company have successively passed the certification of the Provincial Development and Reform Commission and the Provincial Department of Industry and Information Technology.The"Hebei Home Textile Industry Technology Innovation Strategic Alliance"and the"Hebei Home Textile Industry Technology Research Institute",led by Ruichun Textile and established as a supporting unit,have passed the accreditation of Hebei Provincial Department of Science and Technology.

 With the development and growth of the company,various honors have come one after another.The company has successively won the"Nomination Award of Hebei Provincial Government Quality Award","Hebei Province"Specialized Special New"Demonstration Enterprise","Hebei Province Key Enterprise of Integration of Industrialization and Industrialization","High-tech Enterprise","Hebei Province Credit Enterprise","Hebei Province""Hebei Province Industrial Enterprise A-level R&D Institution","Hebei Province'Industrial Clinic'","Beautiful Hebei·Excellent Famous Brand Product","Hebei Province Small and Medium-sized Enterprise Famous Brand",Hebei Province Quality and Benefit Enterprise,"China Textile Industry Federation""Product Development Contribution Award","2017 Most Influential Bedding Brand","Enterprise Standard Leader Certificate","AAA Credit Customer of Baoding Branch of China Postal Savings Bank","Baoding Municipal Government Quality Award","Honorary titles such as Baoding Youth Science and Technology Demonstration Base","Civilized Unit Title of Baoding Municipal Party Committee and Municipal Government"and Gaoyang County"Excellent Taxpayer Enterprise"Gaoyang County's 2018 Precision Poverty Alleviation"Excellent Private Enterprise".Chairman Zhang Ruichun was rated as"Baoding City's Most Growing Private Enterprise Operator",Baoding City Excellent CPPCC Member,Baoding Private Economy Annual Figure"High-growth Entrepreneur Elite",Hebei Province"Young Spark Technology Leader","Baoding"Honorary titles such as the 6th City Model of Honesty and Faithfulness and the First Top Ten Moral Models of Gaoyang County and Top Ten Poverty Alleviation Stars of Gaoyang County.

 The past achievements will not stop Ruichun people.In the face of fierce market competition,increased production costs such as labor and raw materials,and severe export forms,Ruichun will take advantage of the long wind,chop the waves and face the difficulties.Continuously increase investment in innovation,introduce advanced technology and equipment,enhance independent research and development capabilities,enhance product market competitiveness and brand influence,and bravely be the tide of the times amidst the waves of economic globalization,and sail through the clouds.

 In the days to come,Ruichun people will be full of gratitude,lift up love and hope,practice the vows and responsibilities on their shoulders in their hard work,hold the pen of faith,and paint a first-class home textile enterprise.Golden vision;holding the fire of ideals,warm and comfortable your life.