The expert advisory team of Donghua University went to Ruichun Research Institute for investigation and guidance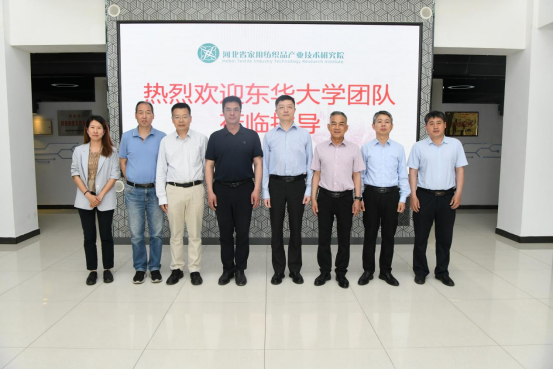 On the morning of May 21,2023,Chen Ge,vice president of Donghua University,and a team of 5 experts and consultants went to Hebei Home Textile Industrial Technology Research Institute for periodic work communication research.Gaoyang County in charge of deputy county magistrate Sun Haijian,research institute president Zhang Ruichun and other contacts.

 At the meeting,the research institute reported the work in the first quarter of 2023,and put forward the phased problems.Chen Ge put forward development ideas and feasible suggestions on industrial transformation and upgrading strategy.Professor Zhao Tao of dyeing and finishing major,Professor Zhou Qihong of production line automation major,Teacher Ge LAN and Teacher Zhang Lianying of textile design major all answered the project and stage problems of the institute from their own professional fields,and gave research paths and solutions.

 Donghua University is a state key university directly under the direct administration of the Ministry of Education.It is one of the"double first-class"and"Project 211"universities.The university takes textile,materials and design as its advantages.It is a multi-disciplinary and high-level university with distinctive characteristics.Hebei Household Textile Industrial Technology Research Institute is an industrial technology innovation strategic alliance led by Hebei Ruichun Textile Co.,Ltd.and Gaoyang County Ruichun Textile,5 enterprises and 3 universities,approved by Hebei Provincial Department of Science and Technology.It is an important support platform for the transformation and upgrading of Hebei household textile industry.

 In the afternoon,the expert consultant team went to the production workshop,pilot workshop,after the vehicle field inspection,in-depth understanding of the technical application and existing problems in the production process.During the inspection,the experts made detailed inquiries and guidance on the production process,equipment maintenance,product quality and other aspects,and provided valuable opinions and suggestions.

 This communication survey aims to promote industrial transformation and upgrading,promote technological innovation and achievement transformation,and improve the research and development level of the institute and market competitiveness.The expertise and experience of the expert advisory team will provide strong support and guidance for the Institute to achieve a higher level of development.